How does one even begin to put into words the amazing experience of bringing a child into the world? Maybe that sounds cheesy…but if you have children, I'm sure you can relate to how utterly miraculous it is! Here is my humble attempt at describing Jonah's birth story.
Once again, my due date (July 19) came and went with no signs of labor. On Monday, July 21, I had my 40 week appointment with my midwife, Dotti, at her office. Baby and I were both doing well, and we scheduled an appointment for the following Monday (one I hoped I wouldn't need!). Dotti was planning to sweep my membranes since I went 11 days late with Audrey and she was 9 lbs, but she was not able to do so (or tell if I was dilated) because my cervix was too far back.
I left feeling a little disappointed, but I reminded myself that the baby would come when he/she and my body were ready. The week passed without much incident, though I did have a lot of Braxton Hicks contractions. I went on numerous walks, drank several cups of red raspberry leaf tea, and tried to enjoy my last few days of pregnancy.
My mom was scheduled to arrive in Colorado very late on the evening of Friday, July 25, and I jokingly said that the baby was waiting for her to come. I decided on Friday to try a few things to get labor going, but I didn't get my hopes up. This included taking 2 walks, drinking red raspberry leaf tea, using evening primrose oil, and receiving a relaxing foot rub from Andrew. During our evening walk, my belly felt very tight and uncomfortable but I wasn't really having contractions yet. Later, Andrew and I watched a few episodes of the show 24 and headed to bed.
Around 2:30 AM, I woke up to go to the bathroom, and I felt a little "off." I couldn't quite place the feeling because I wasn't having contractions, but my belly was tight and cramping. I tried to settle myself back in bed, but I couldn't sleep and I had to keep using the restroom. A few minutes later, I woke Andrew and told him that something was going on and I asked if I should call Dotti. I hated to wake her if I wasn't really in labor, but my fast labor with Audrey (around 5 hours) made me very cautious.
I called Dotti around 3 AM and she asked me some questions. She thought I was probably in early labor, so she told me to keep her apprised and to call back when my contractions were about 45 seconds to the peak. She also said to call her by 6 AM with a status update since she had plans to go somewhere that day.
As soon as I got off the phone with Dotti, real contractions started. They were around 30 seconds long and about a minute and a half apart. It made me a little nervous that the contractions were so close together so early in labor, but they weren't very painful for the first 30 to 45 minutes. Andrew did some straightening up around the house and cleaned the kitchen, while I made sure all of our birth supplies were in the right place. I also put on some makeup between contractions so I would look somewhat decent in any pictures we would take later in the day.
By 4 AM, my contractions were getting more painful and I had to concentrate through them. They were lasting around 45 seconds, so we decided to call Dotti back and let her know. She answered right away and told us that she would head over.
During this time, I was sitting on our bed timing contractions on my phone. Dotti arrived about 20 minutes later and she checked my blood pressure and asked about my progress. She also checked me and said that I was 5-6 cm dilated and 80% effaced. It was nice to hear that I was already making good progress!
While Dotti got her supplies ready, I labored on my birth ball and also kneeling beside our bed. She checked baby's heartbeat about every 15 minutes and gave me recommendations for the best positions to be in (at one point I was sitting cross-legged on the floor, and baby's heart rate had dropped a bit so she told me to try something else). Dotti also reminded me to drink water after each contraction, to relax during contractions, and to eat a snack if I could. I was so thankful that she was there to guide me since I didn't have that during Audrey's labor.
We texted and called a few people to let them know that I was in labor. My mom was in Cheyenne, WY, to pick up a car from my dad's house, and she decided to come down so she could be here to help with Audrey and/or see the birth. Andrew's parents decided to head to the Springs in the morning. We also called Andrew's sister so she could be on standby in case we needed her to come get Audrey.
Dotti's apprentices (Jennifer and Caitlin) arrived by 5:30 AM and they started filling the birth tub while Andrew and I stayed in our room and worked through contractions. He was a champ labor companion! He rubbed my back, let me lean on him when I wanted to stand for a while, brought me anything I asked for, and was just sweet and attentive. We kept marveling at how much more peaceful and relaxed this labor experience was compared to Audrey's. We were even able to listen to the playlist of music I had prepared.
Around 6 AM, Dotti suggested that I get in the tub if I wanted to. My contractions were still really close and getting longer and more painful, so I decided to get in. The water felt great, but my contractions slowed down quite a bit. It was nice to have a break, but I started worrying a little over the fact that things had slowed down. Dotti assured me that I didn't need to worry and that I was doing great with handling my labor.
I continued to labor in the tub, and things started progressing again. Between contractions, I felt good and I was able to talk to Jennifer and Caitlin. It was nice to have a chance to get to know them better, and we all made final predictions about the baby's gender. When a contraction came I would lean on the side of the tub and hold on to Andrew's hands. My legs started getting a little tired that way, so I tried to change positions during my breaks. Dotti made a protein shake for me to sip on since I didn't have an appetite to eat anything.
Audrey woke up around 7 (we were amazed and thankful that she didn't wake up earlier with so much going on), and we called Noelle to pick her up. I said goodbye to Audrey and told her that the baby was coming soon. She was a little overwhelmed by the all extra people in our house, but she was happy to go with Noelle.
My mom arrived around 8. By then, the contractions were getting intense. closer together, and were accompanied by a lot of pelvic pressure. Dotti checked my progress again. She could tell I was 100% effaced, but she had difficulty telling how far dilated I was. She suggested that I get out of the tub and walk around outside to see if my water would break. I didn't like the sound of walking since my contractions were very hard, but I was ready to move things along. When we got outside, I walked about 10 steps and my water broke. The contractions REALLY picked up and I wanted to get back in the water as soon as possible. Jennifer and Caitlin added hot water to the tub while I was out to warm it back up. We went back upstairs and I stood outside the room holding onto Andrew and swaying back and forth during some very difficult contractions. Earlier, I had wondered if I was in transition yet, but at this point I KNEW I was there.
When I returned to the tub, I could tell I was getting close to the end. Of course, this also meant that the contractions were very intense and it was getting harder to breathe through them. Dotti kept reminding me to relax and not tense my muscles, but that was hard to do! Around 8:30, I told Dotti that I felt like I would need to push soon.
If you've ever been through a natural labor, you can probably relate to how I was feeling at this point. I knew my body knew what to do (I had done this before, after all), but as pushing got closer I started to feel a little panicked. I remember saying, "I just feel like I can't do it;" and "I'm scared. I know my body knows what to do, but I'm scared." I asked Andrew to pray, and his words calmed me so much. I was still scared, but everyone kept telling me that everything was okay and that I was doing a great job. I was thankful to have so much support around me!
During some of the contractions, I felt the urge to push, while I didn't for others. Dotti checked me again and said she could feel a cervical lip (meaning that my cervix wasn't fully dilated and was partially in the way.) When I started to push, Andrew moved around to the back of the pool so he could catch the baby. Jennifer took his place holding onto my hands at the edge of the pool (they made the switch during one of my contractions and I didn't even notice until afterward). There were several times when I thought the baby's head had been born, but they kept saying that the baby's head was almost out. After about 30 minutes of hard work pushing, our baby was finally born! I was SO glad to be done since it was a more difficult delivery than Audrey's had been (particularly the pushing because of the lip).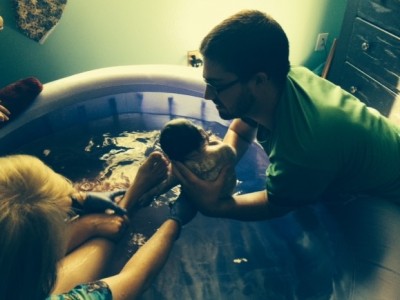 Andrew handed the baby to me, and what a moment! To finally be holding the precious baby that we had been talking about, praying over, and preparing for for 9 months was simply amazing. All the hard work and pain were over and we had our sweet baby, safe and sound. I noticed that he was a good-sized baby (though he did look smaller than Audrey had) and he was covered in vernix. The vernix surprised me since he was exactly one week late. No one had seen whether the baby was a boy or a girl yet, but I thought I had seen something between the legs when the baby was handed to me. At first I thought it may have been the cord, but sure enough, we had a boy! I was surprised that he was a boy (I was convinced we were having another girl), but I was very happy. He looked up at me and started crying off and on to clear out his lungs. We all just marveled at him and watched as he pinked up nicely. Andrew and I told everyone that his name was Jonah Henson. I held him close and talked to him while we waited for the placenta to be delivered.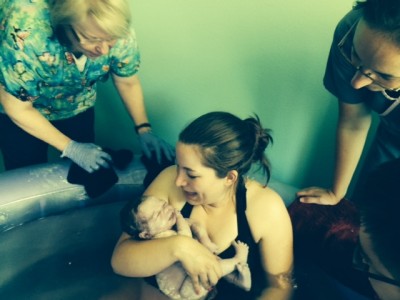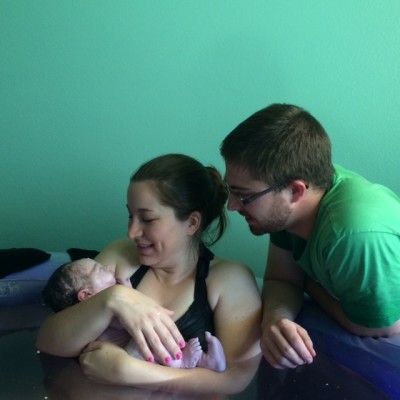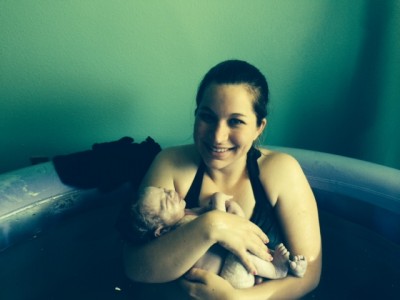 I delivered the placenta and Dotti showed us where it had been attached to me and where Jonah had been growing for 9 months. Afterwards, I handed Jonah to Andrew, and Jennifer and Dotti helped me out of the tub and into bed. Dotti helped me nurse him and he did great. After he had eaten, they checked him out, Andrew cut his cord (yes, it was still attached to the placenta at this point, about 45 minutes after birth), weighed him, and took his measurements. He was 8 lbs. 13.5 oz, and 21 1/2 inches long. Everyone kept saying how big he was, but he looked so tiny to us!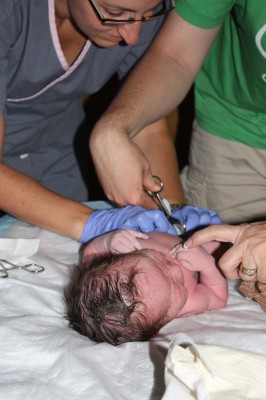 Dotti helped me get to the shower and afterwards she repaired my tear. She and her apprentices cleaned everything up while Andrew and I relaxed with our sweet boy. We both thought he looked a lot like Audrey as a newborn with his sweet blue eyes and full head of hair. My mom held him for a little while and then left to get lunch for us. Shortly after, we called Noelle and she brought Audrey home to meet her new brother. She was pretty quiet at that first meeting, but she warmed up to him quickly!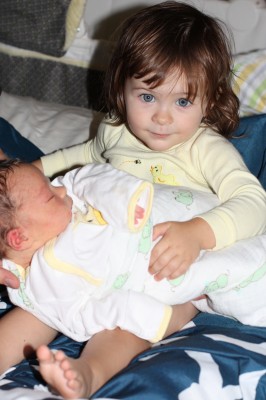 I have been asked several times whether I would do a home birth again. My answer? Absolutely! As you can tell from this (long, sorry!) story, we were incredibly supported and loved throughout the entire pregnancy, labor, and birth process. Dotti is a very special person to us and I am so thankful that she was there for us every step of the way. I feel very blessed to have had such an amazing birth experience…one I hope to repeat in the future, Lord willing.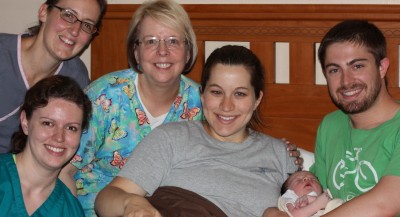 Andrew, Jonah, and I with our birth team – Jennifer (far left), Caitlin, and Dotti. We love them!